i have seen a lot of pins on pinterest about turning a sweater or old shirt into a cardigan. i've even pinned a few. some of them are just pictures and not tutorials. i have had this sweater sitting on a shelf in my room for months. i finally decided to just do it. i am sure others are using fancier methods, but i just did what made sense.
1. lay sweater on cutting board. make sure you only cut through top side of sweater.
2. use a ruler and rotary cutter and cut straight down the center of the sweater.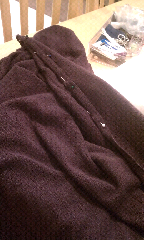 3. pin a hem. i did about 1/4". if you really want to be perfectionist, measure the hem so it's perfect.
4. sew the hem. make sure you sew it so the hem is on the inside. i turned my sleeves inside out to help me visualize but it's so not necessary
5. voila you have a cardigan. this really is the same sweater even though the color looks completely different.

i basically wear a cardigan every single day of my life. this was so easy. i'm on the search for more clothes to re-purpose into cardigans